Cranberry Twp Prenatal Chiropractic
Don't Make Pregnancy Harder Than It Has To Be!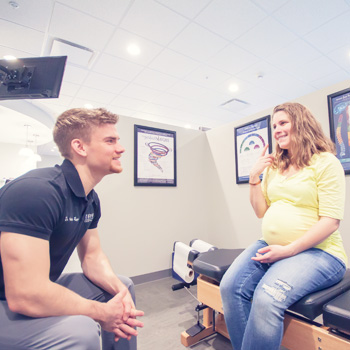 Your body goes through many physical changes during pregnancy, often leading to pain and discomfort. The loosening of ligaments and change in center of gravity can lead to secondary conditions such as:
Back pain
Poor sleep quality
Hip pain
Neck pain
Round ligament pain
Pubic bone pain
At Thrive Chiropractic, pregnant patients report improvements in those issues and so much more! By gently correcting subtle shifts in the spine and pelvis, your body is better able to cope with pregnancy challenges as well as have a better chance of an easier labor and birth.
Expert Prenatal Care
Through specialized prenatal training we're able to ensure that mom's spine and pelvis are moving properly and aligned. This removes stress and tension on the uterus and provides your baby with the needed room to move and position themself in the best way possible, potentially reducing the need for interventions at birth. Dr. Andrew Rupp has received extensive additional training on caring for pregnant patients, including being Webster Certified by the International Chiropractic Pediatric Association.
The Webster technique is a method of analyzing and adjusting the pelvis to improve its function, reducing stress and tension on the surrounding organs and tissues.
Meet Dr. Rupp

Avoid Future Problems
In our office we see many children who have been negatively impacted by birth trauma, such as C-section or the use of vacuum, forceps, or hands to pull the child from the birth canal. This places an enormous amount of stress on their head and neck and potentially leads to many secondary conditions such as nursing problems, colic, ear infections, allergies, asthma, ADHD, & more. Our goal is to help you avoid unnecessary birth intervention as much as possible and achieve the birth outcomes that you desire!
Want to Learn More?
We look forward to meeting you and your family. Get in touch with us to schedule your complimentary consultation for prenatal chiropractic care in Cranberry Twp!


Prenatal Chiropractor Cranberry Twp, Warrendale, Wexford, Mars, Butler, Pittsburgh PA | (724) 799-2248