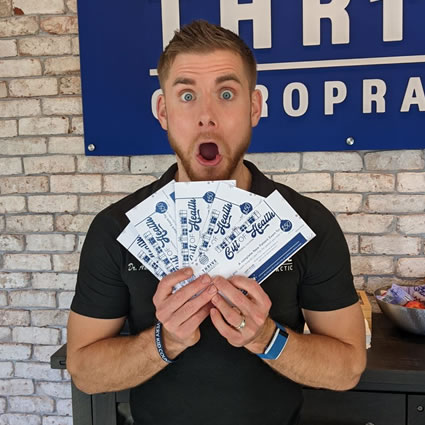 Still have some holiday shopping to do and looking for a fantastic, last-minute gift for friends and family?
Want to start 2022 with optimal health?
We have a terrific solution—the Gift of Health!
From now until January 31st, we're offering our initial scans and analysis for a donation of just $50! Not only do these coupons allow for a discounted exam, you will also receive a $100 care plan credit.
Helping Others in Need
While this offer represents an amazing opportunity to take control of your health, it also helps others in need. We are donating 100% of the $50 exam fees to Light of Life Rescue Mission here in Pittsburgh. Since 1952, Light of Life has been a place where hope and healing meet for men, women, and families experiencing homelessness, poverty, or addiction. The ministry provides meals, housing, and programs to help those in need get back on their feet.
Step into the New Year Healthier
Whether you want to jump-start your health by adding chiropractic care to your wellness regimen, or seeking a natural way to address pain, we want to help you.
If you've been following what we do here at Thrive Chiropractic for a while, but haven't taken that first step to get under chiropractic care, NOW is a great time. With just a $50 donation, you can get started. And with the $100 care plan credit, you'll enjoy savings off our natural and effective care.
To our current #thrivetribe: be sure to grab one (or a handful) of the Gift of Health coupons next time you're in! Make sure your name ends up on the bottom. For every person you refer in, you'll be entered to win a $50-$200 pack of gift cards to local businesses.
Whether it's a friend, neighbor, or someone else in your family who has been thinking about
starting chiropractic care
, there's no better time than now!