Hi Thrive family!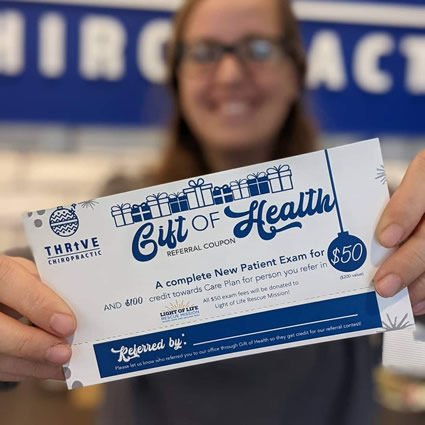 We've got some exciting news to share – Gift of Health is here!
What does that mean for you? From now until January 31st we're offering our initial scans and analysis for only $50! Not only do these coupons allow for a discounted exam, you will also receive a $100 care plan credit as well!
It's no surprise that this has been an especially hard year for many people, which is why we're taking it one step further and donating 100% of the $50 exam fees to Light of Life Rescue Mission here in Pittsburgh.
Light of Life is a homeless shelter that provides meals, housing, and programs to help those in need get back on their feet.
If you've been following what we do at Thrive for a while, NOW is your chance to get started for only a $50 donation… not to mention the $100 credit to your care plan!
To our current #thrivetribe: be sure to grab one (or a handful) of these coupons next time you're in! Make sure that your name ends up on the bottom – for every person you refer in you'll be entered to win a $50-$200 pack of gift cards to local businesses. Whether it's a friend, neighbor, or someone else in your family who has been thinking about starting care, there's no better time than now!