About Our Office
Designed With You in Mind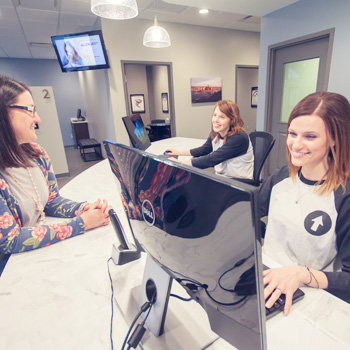 When you walk into Thrive Chiropractic, our goal is that you feel at home and at ease. The modern, comfortable, kid-focused atmosphere along with our compassion, joy, and authenticity creates a welcoming environment that you and your family are excited to enter and hesitant to leave.
We are not your traditional chiropractic office.
Whether it's our quiet nook for the nursing mom or the play area for kids, we are sure each member of your family will find themselves completely comfortable.
Where Family Comes First
Thrive Chiropractic exists to empower families to truly thrive. Dr. Andrew is a Cranberry Township chiropractor who has pursued additional training and certifications to become a leader in caring for families, specifically prenatal and pediatric patients.
We believe that these patients deserve specialized and individualized care, and we take that duty seriously. We consider it an honor and great responsibility to care for someone's child.
Everyone was very friendly and professional!

Very friendly and family oriented.

So thankful I have found Thrive! Love the staff!

The staff makes you feel at ease right off the bat. We are always cheerfully greeted, always by name I might add, upon arrival, and chatted with until our adjustment.

I have been to a lot of chiropractors in my life and Thrive is by far the most professional and beautiful office I've ever been in. Very confident in the care given here and I know myself and my children are in good hands!
Unique Approach
Our unique approach uses state-of-the-art technology to develop an individualized care plan for each member of your family.
Unlike most traditional chiropractors who focus on decreasing muscle spasms, increasing range of motion, or temporarily reducing pain, at Thrive Chiropractic we focus on tonal correction  of the spine and nervous system.
This priority on uncovering the underlying cause of your health issues rather than treating the secondary conditions (symptoms) allows us to optimize your health and help you and your children truly thrive.
To find out if our office is a good fit for you or your family, schedule your Complimentary Consultation today!
CONTACT US


About Thrive Chiropractic | (724) 799-2248